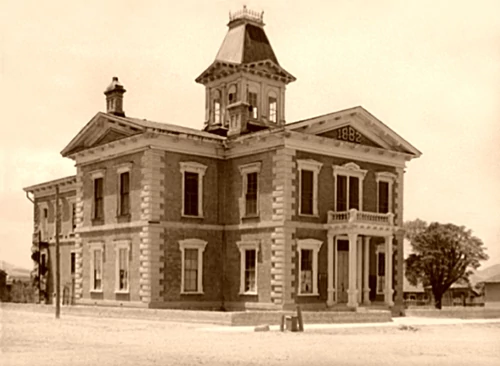 You are sitting by a fire, sharing the warmth and the light it gives with your companions. The night has drawn in and laid a blanket of silence upon the world, smothering all but the crackling of the flames and your own breath. You can't see beyond the firelight. It's as if you are in your own little world, contained within the glow, even though the rational part of you knows there are things outside.
Across from you on the other side of the fire sits Spook. She is a lean woman with blond short cropped hair and dressed in sturdy boots and combat fatigues. A bow rests gently within easy reach against her leg. She sits just far enough away from the fire that her face remains in shadow, but you catch a glint of firelight reflecting in her gaze as she looks at you. When she speaks her voice is clear and strong, but low, as if speaking loudly would break some kind of spell or unwritten rule.
"My father once told me a story about a place called Tombstone. It was a town that existed before The Shattering in a land called America. We were out camping, sitting around a fire when he told me. It was much like tonight, which reminded me."
Spook wasn't generally one for 'opening up' like this. Especially not about her past, or her father. What little you have heard about Mr Chains you have deduced from speaking in hushed whispers to the others. He was (according to them) a quiet man, who was more at home in the woods and didn't much like company.
You hear Spook shift uneasily on the tree stump opposite. "'Daisy', he said. 'Listen up, because I've got one hell of a story to tell and it might just save your life.' He wasn't one for drama, my father, so I listened up.
There was once a place called Tombstone, rich in silver. It came to prominence in a land far away and where the people spent far too much time grubbing around in the dirt coveting wealth. There were tensions between the miners, the bankers and the gang leaders. It all came to a head one day and became famous for a gunfight at a site called the O.K. Corral. Blood was shed and people swung from the gallows. Justice was swift in those days.
I thought my father was going to finish by telling me that there are no winners in a gunfight, but he didn't stop there. 'Tombstone' he said, 'became a haunted place from that day on.' He wasn't talking in metaphor, although surely the people that survived were haunted by their memories of those dark days. No, he was being literal. The place even attracted tourists, trying to catch a glimpse of a ghost or feel a presence."
You look around at the darkness beyond the firelight and feel a chill despite its heat.
"Years passed by and life moved on. The mines dried up and if it wasn't for the tourists, the town would have been dead. While the town remained, the ghost stories did too. People would claim they had seen apparitions walking the streets. A number of witnesses said they had seen bodies lying in the street – bleeding, but when they turned back the blood and the bodies were gone.
Another tragedy nearly happened, or rather it did happen, at Tombstone. The old silver mines had been opened to the public. It was a national treasure that they wanted to preserve until one day a cave in revealed a sealed chamber. Thankfully no one was hurt that day, but the chamber was piled high with corpses. The identity of the dessicated remains was a mystery. There weren't any records of miners (and certainly not so many) dying en masse in the mines. According to historians it looked more like a plague pit, but that didn't make sense either as Tombstone had no records of plague victims.
Speculation ran riot in the weeks and months that followed, helped by the mist that now seemed to exude at night from the mines. It covered the town in a thick veil that deadened the senses. You could get really truly lost in the fog, my father said. It was disorientating and muffled sound. Someone could be right behind you, but sound far away."
At Spook's words you hear a crack, like a snapping twig, and instinctively turn to gaze fearfully at the dark. You return your gaze back to the fire as she continues.
"The ghost stories continued, but now included tales of the dead clawing their way free from the earth when the mists descend. Tourism waned, because people were actually afraid."
Spook stops to pick up a long stick and pokes the fire with it. You watch as it sends sparks into the night sky. She casts the stick aside with disdain and continues.
"That was all before The Shattering. My father said the town disappeared after that, but on nights like tonight, when the mist descends, the town called Tombstone reappears and the dead walk once more. He spoke as if he had seen Tombstone himself, but he wouldn't be drawn on it when I asked him."
Spook lays down her bow, unrolls her blanket and lays down with her head propped up on one arm. "Better get some rest. Hey, it's just a story, but you never know. Crazy things can happen." With that she lays down properly and closes her eyes.
You and your companions make your beds as best as you can, staying close to the fire. As your eyes begin to close and sleep wraps you in its warm embrace, you catch a glimpse of something in the corner of your vision and then you dream of mist.