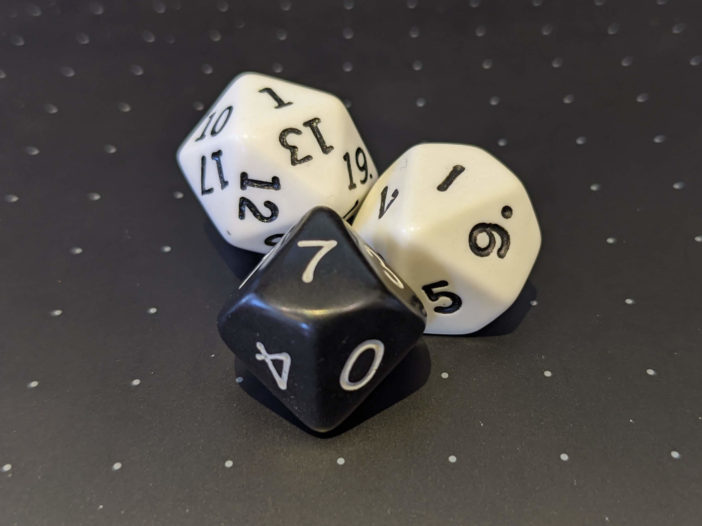 I have been thinking about opposed tests. It's an important issue for me, because it will affect what I do with the game I am writing (Shapers).
Okay, time for some background. When I first started cobbling together some rules, I thought "Hmmm, I don't particularly want lots of dice rolls during combat, as that slows things down. So in opposed tests I'll keep it simple and have the opponents skill act as a sort of modifier". In effect that's like how many games do things, with a certain difficulty needing to be reached to succeed at a particular task. It works like this in DnD for instance with AC being the target that you need to beat in order to succeed.
However, Andy Law (formerly the producer and one of the writers for WFRP 4th Edition) got me thinking when he said, "And, like others, I will never go back to non-opposed tests." There has to be a good reason for him to say that, right?

Other games use an adversarial approach and two examples spring instantly to mind. WFRP 4th edition (of course) uses a d100 system, where each opponent rolls against their skill and achieves a number of successes (either positive or negative) based on the result. You compare the relative successes between the opponents to determine who won. It's an interesting mechanic, because there is almost always a winner, even if that means one character 'fails' better than the another. The other example that comes to mind are the plethora of offerings set in the World of Darkness. Each opponent rolls a number of d10s against a set difficulty that you need to equal or beat. Successes are added together and then compared to find the winner.
So far in Shapers, I have opted for the first approach. In summary it goes like this:-
Work out the Target Number (TN), which is Difficulty 50 (for opposed rolls only) + Attribute + Aptitude. Then roll a d100 and try to score less than or equal to the TN. The amount you succeed by is reduced by your opponent's Attribute + Aptitude. If you failed of course, your opponent's Attribute + Aptitude scores are added on to the result, thus making it worse for you!
I am now not so sure that it is the best approach. I can see some benefits (less dice rolling), but I can also see some downsides too. For one thing, if you are the player and something is laying into your character, it can feel as if there is nothing you can do to stop it. With an adversarial approach, you can at least feel like you are doing something to stop it, even if you end up rolling badly. Also there are moments when you do roll badly and you don't know how well your opponent has done. Have they rolled badly too? Is it enough to mean you still won? Those few moments of not knowing can get exciting!
If I were to change Shapers to use an adversarial mechanism, it would be pretty straight forward. So while there would be more dice rolling, I don't think it would be mathematically taxing or particularly cumbersome.
What are your experiences of the two approaches and which do you prefer? I am all ears, as the saying goes, so please feel free to let me know in the comments.