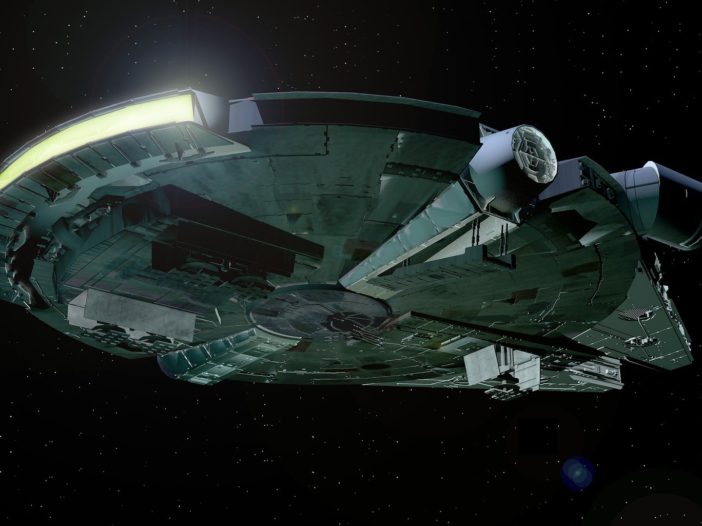 I recently got a copy of Star Wars: Revised, Expanded and Updated. I hadn't played the game since West End Games were still at the helm and reading it brought back so many happy memories of playing the game, reading through the source books and of course, watching the films!
Anyway, as there may be a game coming up the GM asked me to create a character. I had a look through the templates in the book (they're all good!), but none of them really fit what I had in mind. So I went ahead and created my own template (there are rules for that in the book).
So here is my Crackpot Researcher template. It covers scientists, historians, psychologists and many other learned types. As an added bonus the template has a ship, a droid and a reason to be travelling, so will fit in nicely with any party of scoundrels.
---
Character Name:
Type: Crackpot Researcher
Gender/Species:
Physical Description:
| | | | |
| --- | --- | --- | --- |
| DEXTERITY | 2D+1 | PERCEPTION | 3D+1 |
| Dodge | | Investigation | |
| Running | | Persuasion | |
| | | Search | |
| KNOWLEDGE | 4D | STRENGTH | 2D |
| Alien Species | | Stamina | |
| Bureaucracy | | Swimming | |
| Business | | | |
| Cultures | | | |
| Languages | | | |
| Planetary Systems | | | |
| Scholar | | | |
| MECHANICAL | 3D | TECHNICAL | 3D+1 |
| Astrogation | | Computer prgm./repair | |
| Repulsorlift operation | | Droid programming | |
| Sensors | | Droid repair | |
| Space transports | | Equipment repair | |
| | | First Aid | |
| | | Space transport repair | |
Equipment: Stock YT-1300 light freighter (with 15,000 credits of repairs needed to make it spaceworthy), Datapad, Medpac, Standard Tool Kit, Hold-out Blaster (3D), R2 astromech droid (see the "Droids" chapter) or a 3PO protocol droid, 50 credits
Background: Life was good at the university and as long as you did the work you were asked to do your supervisors were willing to overlook your more esoteric pursuits. That all started to change when the Empire got involved, handing down decree upon decree, restricting what could and could not be researched. You were being pigeon holed and the funding for your extra curricular studies dried up.
It didn't take long before you noticed the sidelong glances and heard the gossipers muttering behind their datapads. They thought your ideas were crazy, but you knew better and you were going to show them you were right. The truth is out there!
When the opportunity came to retire early you took your money and your hard earned savings and bought yourself a ship. The maiden voyage didn't go so well, but you landed it okay and you're sure it will be spaceworthy again soon. You just need a little more time and money to get it patched up.
Personality: You're slightly obsessive, but upbeat. A positive oddball some might say. You've taken to talking to your droid and the ship's computer in place of real company. You try not to let others' opinions of you get you down.
Objectives: You look forward to forging your own path out among the stars, but deep down you know you can't do it alone.
A Quote: "I have managed to isolate the primary – oh what's the use? You can't tell a dewback from a gundark. Would you hand me that datapad?"
Connection With Characters: You might agree to take someone off world if they can help you fix your ship (or pay handsomely so that someone can fix it for you). You might know by reputation an armchair historian or any knowledgeable or technically gifted individual.