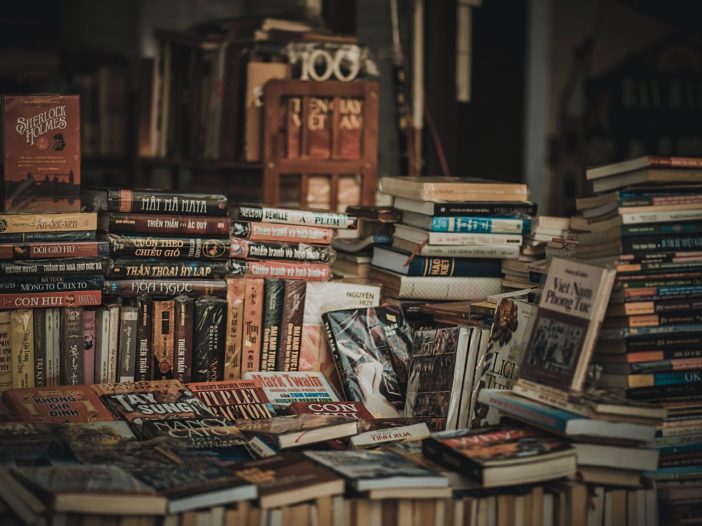 Learning from books
Roderick turned the pages of the musty old tome, his eyes quickly scanning from left to right, absorbing the information contained therein. His right hand wielded a quill with furious abandon, as he scribbled down notes in a shaky hand, on a sheaf of crumpled and slightly brown paper. After a while he closed the book and clutching his notes, stood up and turned to leave. He was excited at the prospect of putting into practice what he had just learned.
As in real life, characters in WFRP 4e can learn a lot from books. Several careers even have books listed in their suggested trappings and indeed there are multiple books listed in the Consumer Guide of the main rule book too. Other than books being there as simple window dressing, what can they actually do for your character?
On page 128 of WFRP 4e under the Research skill it explains that you can pluck interesting and obscure pieces of information from 'libraries and other such storehouses of information'. That's great, but what if you have the time and inclination to learn a bit more than odd pieces of information? What if you want to learn a skill? Books can definitely do that (memories of school textbooks spring to mind), so perhaps we can build something to simulate that in the game?
Using a library
Okay, this one is going to be really easy to simulate, because there are already rules that cover it. Just use the Training Endeavour on page 199 of WFRP 4e and consider your 'tutor' is a bunch of illuminated books or manuscripts, or maybe even printed journals on engineering or whatever it is you are trying to learn. If it is something really obscure, then use the Consult an Expert Endeavour first.
Next!
Using your own books
If you have a book or three that covers a particular skill, you can learn from them, assuming your character has the Read/Write Talent and the books are written in a language they understand of course.
Performing Tests
If you are actively using your books as reference material while making a Test, then they count as one or more assists (up to your usual maximum) and therefore grant a +10 bonus per assist. The number of potential assists depends upon the size of your burgeoning library (see the chart below for details). This bonus only applies if you are using the skill associated with the book(s).
Matthias is an apprentice carpenter and has a book called "Carpentry 101" which he bought from his friend and mentor, Friedrich. He is trying to build a simple trestle table and is following the guide he found in the book. His Trade (Carpenter) skill is 38 and the GM has ruled that this is an Average (+20) Test. Also as he is using the book, he can claim a +10 bonus for an assist. In total Matthias' player needs to roll 68 or under to succeed.
Learning Advances
Books are able to act as mentors, allowing characters to learn the skills detailed within their pages. The number of advances available to learn depends upon the total cost of the books at hand. To make things easy, the costs are derived from the skill XP costs, divided by 10. That is then applied as a modifier to the base cost of a book on that topic. The Consumer Guide on page 304 of WFRP 4e has some basic book prices.
| | | | |
| --- | --- | --- | --- |
| Skill Advances | XP Cost per Advance | Assists | Book Cost Multiplier |
| 1 to 5 | 10 | 1 | 1 |
| 6 to 10 | 15 | 2 | 1.5 |
| 11 to 15 | 20 | 3 | 2 |
| 16 to 20 | 30 | 4 | 3 |
| 21 to 25 | 40 | 5 | 4 |
| 26 to 30 | 60 | 6 | 6 |
If you need to calculate additional costs (the XP chart goes all the way to 70+ advances), then simply divide the XP cost by 10 and use that as the multiplier. Similarly the number of potential assists goes up by 1 per level.
Some examples will help here.
Roderick is trying to learn Lore (Law). He has one book on Lore (Law) and it cost a princely sum of 15GCs. Ouch! The first tier of XP costs has a multiplier of just 1, so to learn up to 5 Advances in Lore (Law) he needs books with a total value of 15GCs. Luckily his one and only book is enough to cover the basics.
Roderick learns his first 5 Advances in Lore (Law), but now he wants to learn more! Looking at the multiplier for the next set of Advances we can see that it is now 1.5 which means he needs books with a total value of 22GCs and 10/- before he can unlock access to those juicy 6 to 10 Advances.
Rosa is having a much easier time trying to learn Trade (Engineering) from a set of books. She managed to pick up her first book for 3GCs and has learnt her first 5 Advances. To unlock access to 6 to 10 Advances, she will need to increase her little library of books to a value of 4GCs and 10/-. Once she has done that, if she wants to learn 11 to 15 Advances she'll need 6GCs worth of books and so on.
If you are using an Endeavour to learn skills from your own collection of books, you are already considered to have spent the required money and do not incur any further costs (books are expensive enough!).
The Consumer Guide in the main book does not cover every possible book that characters might want to buy, so GMs will have to come up with their own baseline costs for things if they aren't already listed.
As you can see, it's not cheap. Books are expensive, but they do have tangible benefits. Not least of which is that they are a valuable commodity in the Warhammer world and characters could take a leaf out of – no, bad phrase to use when talking about books – characters could loan or rent access to their books, rather like a library – and potentially use it as a source of income, or they could just have a magnificent set of shelves to gawp at. Their own personal library of knowledge to explore and plumb for hidden nuggets of information.